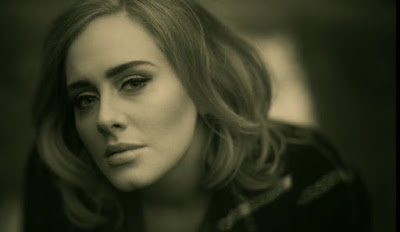 Adele's "25"
has officially set a new record for the biggest single sales week in US music history.
According to
Billboard
, the UK singer's third album has sold at least 2,433,000 in pure album sales in slightly more than three days to beat previous record holder
NSYNC
.
The boy band's 2000 release,
"No Strings Attached"
, sold 2,416,000 sales to establish the single-week record for an album since Nielsen began tracking sales in 1991.
Prior to 1991, there was no authoritative music sales tracking service in the US and so it was mostly unknown how many copies of an album or song/single were sold in a single week.
To date,
"25"
is on track to capture
an estimated 42 percent of recorded music sales this week
.
Adele
's unprecedented domination with
"25"
has forced music industry forecasters to readjust their original estimate of 2.9 million copies sold this week
to an even 3 million
.
The sales tracking week ends at the close of business on Thursday and final sales figures will be available on Sunday.
Adele
launched her third album with the lead single
"Hello"
, an instant worldwide smash which broke streaming and download records in its opening weeks.
See also:
VIDEO: Adele guests and performs on The Tonight Show
Adele on track for biggest sales week in US music history
VIDEO: Adele performs on Saturday Night Live
Adele: 25 sells almost 1 million via US iTunes on opening day
Search Adele at popmusiclife