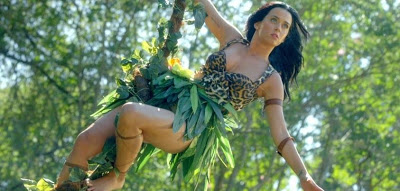 Katy Perry
has released the video for her new single,
"Roar."
The pop superstar delivered the live debut of the song recently as she closed out the 2013 MTV Video Music Awards on location at the Brooklyn Bridge.
"I started the record in November, but things were really flowing by the spring and it's a song about standing up for yourself,"
Perry told MTV News.
"Who can be the biggest bully in the equation is yourself and can get in your way and it's a song about speaking up for yourself and having the strength."
Due October 22, Perry's fourth album,
"Prism"
, is the follow-up to the 2010 smash,
"Teenage Dream"
, which sold more than 5 million copies worldwide.
Katy Perry
See also:
Katy Perry previews Roar video
VIDEO: Katy Perry performs Roar at MTV Video Music Awards
Katy Perry previews two songs from new album, Prism
Katy Perry to perform new single at MTV Video Music Awards
Katy Perry releases new single, Roar
Katy Perry passes Lady Gaga as most-followed woman on Twitter
Katy Perry announces new album, Prism
VIDEO: Katy Perry guests on The Tonight Show with Jay Leno
VIDEO: Katy Perry performs with the Rolling Stones in Las Vegas
Katy Perry is the new face of Popchips
Katy Perry faces indecency charge in India
VIDEO: Katy Perry – Wide Awake
VIDEO: Katy Perry – Wide Awake video preview
VIDEO: Katy Perry debuts new song at Billboard Music Awards
Katy Perry to debut new song at Billboard Music Awards
VIDEO: Katy Perry rocks American Idol
VIDEO: Katy Perry unveils full 3D concert movie trailer
VIDEO: Katy Perry previews 3D concert movie
VIDEO: Katy Perry performs at Kid's Choice Awards
VIDEO: Katy Perry posts Dressin' Up lyric video
VIDEO: Katy Perry – Part Of Me
VIDEO: Katy Perry sings Part of Me on UK television
Katy Perry to perform at Grammys
Katy Perry re-releasing Teenage Dream this spring
Katy Perry to perform at Super Bowl weekend event
Katy Perry wins 5 People's Choice Awards