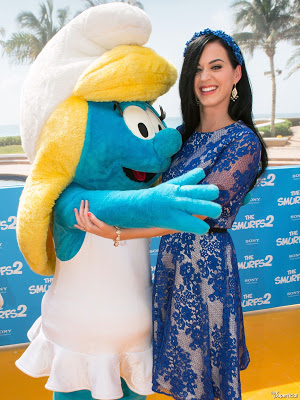 Katy Perry
was a featured guest on The Tonight Show with Jay Leno on Friday as she stopped by to promote her role as
Smurfette
in the new film,
"Smurfs 2"
, which hits theaters on Wednesday.
The singer revealed that she didn't actually have to audition for the role in the film franchise.
"I heard that they heard little clips of my voice with several different people and the producers heard it, and they weren't told who the voices were,"
she told Leno.
"I think it was from a radio show, because my voice is different when I do Smurfette from when I sing. When I sing, I wake up, I stretch, I do my lotions and potions and crystals and prayers. When I do Smurfette, it's a lot more raw and there are a lot more cracks in her voice. It's not thoroughly warmed up."
Perry was asked for an update on a new album, which would follow-up the 2010 smash,
"Teenage Dream."
Without giving a date, she said "soon," adding,
"It will continually be what I always do, which is connecting to my core and bringing an honest message that people can relate to. Honesty is something everyone is looking for."
See also:
VIDEO: Katy Perry performs with the Rolling Stones in Las Vegas
Katy Perry is the new face of Popchips
Katy Perry faces indecency charge in India
VIDEO: Katy Perry – Wide Awake
VIDEO: Katy Perry – Wide Awake video preview
VIDEO: Katy Perry debuts new song at Billboard Music Awards
Katy Perry to debut new song at Billboard Music Awards
VIDEO: Katy Perry rocks American Idol
VIDEO: Katy Perry unveils full 3D concert movie trailer
VIDEO: Katy Perry previews 3D concert movie
VIDEO: Katy Perry performs at Kid's Choice Awards
VIDEO: Katy Perry posts Dressin' Up lyric video
VIDEO: Katy Perry – Part Of Me
VIDEO: Katy Perry sings Part of Me on UK television
Katy Perry to perform at Grammys
Katy Perry re-releasing Teenage Dream this spring
Katy Perry to perform at Super Bowl weekend event
Katy Perry wins 5 People's Choice Awards