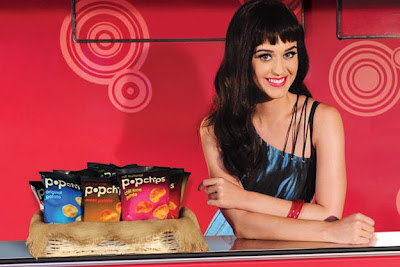 Pop star
Katy Perry
has signed on as the new face of
Popchips
.
The deal syncs up the top-selling line of popped chips and one of the
fastest growing snack brands in the US with the global pop superstar and long-time fan of the brand.
Perry joins popchips as an investor and ambassador that will include being featured in the company's first national advertising campaign launching this fall.
"I remember it was late at night, and I was craving a midnight snack without the guilt,"
said Katy.
"The bag stood out in the minibar, and I was pleasantly surprised when I read the back of the label and saw that it was a healthier choice. I was hooked after my first bite! When I discover something good, I want to share it with everyone I know, so I tweeted about it; popchips came to me, and I've decided to invest in popchips and join the team as a creative partner!"
popchips has created a new category of popped snacks with its delicious, guilt-free option to the choices lining snack aisles.
Since launching in 2007, popchips has developed a passionate following and has been winning awards and acclaim as the "best snack," "best chip" and as one of "America's hottest brands."
popchips are now available at over 20,000 retailers across North America and the UK.
Katy Perry
See also:
Katy Perry faces indecency charge in India
VIDEO: Katy Perry – Wide Awake
VIDEO: Katy Perry – Wide Awake video preview
VIDEO: Katy Perry debuts new song at Billboard Music Awards
Katy Perry to debut new song at Billboard Music Awards
VIDEO: Katy Perry rocks American Idol
VIDEO: Katy Perry unveils full 3D concert movie trailer
VIDEO: Katy Perry previews 3D concert movie
VIDEO: Katy Perry performs at Kid's Choice Awards
VIDEO: Katy Perry posts Dressin' Up lyric video
VIDEO: Katy Perry – Part Of Me
VIDEO: Katy Perry sings Part of Me on UK television
Katy Perry to perform at Grammys
Katy Perry re-releasing Teenage Dream this spring
Katy Perry to perform at Super Bowl weekend event
Katy Perry wins 5 People's Choice Awards