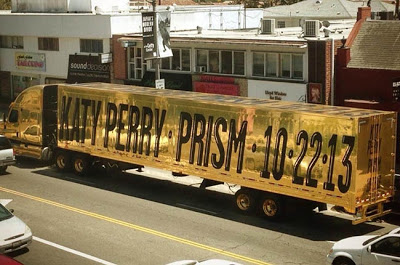 Katy Perry
will release her new album,
"Prism"
, on October 22.
The pop superstar revealed the news with the title and release date emblazoned on the side of a golden truck driving through Los Angeles on Monday.
"Find the #PRISM semi, take a picture and I'll RT you," tweeted Perry to get the viral campaign started. "Don't worry, Los Angeles is just the first stop on the map."
Perry's fourth album,
"Prism"
is the follow-up to the 2010 smash,
"Teenage Dream"
, which sold more than 5 million copies worldwide.
"Teenage Dream"
made Billboard history with five No. 1 singles, a single-album record for a female artist, and is the third album in history to produce eight top five hits.
Perry plays the role of Smurfette in the new film,
"Smurfs 2"
, which hits theaters on Wednesday.
Katy Perry
See also:
VIDEO: Katy Perry guests on The Tonight Show with Jay Leno
VIDEO: Katy Perry performs with the Rolling Stones in Las Vegas
Katy Perry is the new face of Popchips
Katy Perry faces indecency charge in India
VIDEO: Katy Perry – Wide Awake
VIDEO: Katy Perry – Wide Awake video preview
VIDEO: Katy Perry debuts new song at Billboard Music Awards
Katy Perry to debut new song at Billboard Music Awards
VIDEO: Katy Perry rocks American Idol
VIDEO: Katy Perry unveils full 3D concert movie trailer
VIDEO: Katy Perry previews 3D concert movie
VIDEO: Katy Perry performs at Kid's Choice Awards
VIDEO: Katy Perry posts Dressin' Up lyric video
VIDEO: Katy Perry – Part Of Me
VIDEO: Katy Perry sings Part of Me on UK television
Katy Perry to perform at Grammys
Katy Perry re-releasing Teenage Dream this spring
Katy Perry to perform at Super Bowl weekend event
Katy Perry wins 5 People's Choice Awards