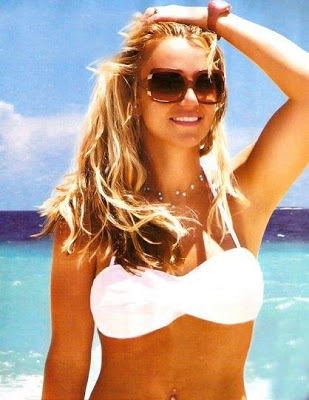 Britney Spears
has been busy on the road this summer filming auditions for the new season of The X Factor.
Judging by a recent Facebook post, Spears has also managed to find some time enjoying some time off along the way.
"Y'all ready for summer to end? I'm definitely not!"
Britney posted, along with a photo of herself in a white bikini and tan sunglasses at the beach.
The pop superstar is gearing up for her first season as a judge on The X Factor, along with fellow newcomer
Demi Lovato
; the two join music producer
L.A. Reid
and program producer
Simon Cowell
for season 2 of the series, which debuts September 12 on FOX.
Britney Spears
See also:
PHOTOS: Britney Spears shoots new perfume ad
PHOTOS: Britney Spears featured in new X Factor photos
Britney Spears would have loved to join American Idol
VIDEO: Britney Spears featured in new X Factor promo
VIDEO: Britney Spears featured in first new X Factor promo
Britney Spears & Demi Lovato confirmed as X Factor judges
Demi Lovato to join Britney Spears as X Factor judge
Britney Spears signs deal to join X Factor
Britney Spears to become X Factor judge
Madonna & Britney Spears flirt on Twitter
VIDEO: Simon Cowell talks Britney Spears on X Factor
Britney Spears nearing deal to become X Factor judge
VIDEO: Madonna calls Britney Spears a 'good kisser'
AUDIO: Britney Spears - 'Look Who's Talking Now' demo leaked
AUDIO: Britney Spears' 'Secret' demo leaked
AUDIO: 2 unreleased Britney Spears songs leaked online