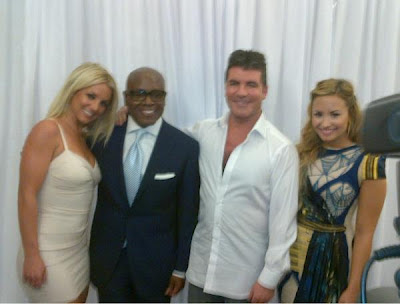 Reality TV's worst-kept secret was confirmed on Monday, as
Britney Spears
and
Demi Lovato
were officially announced as judges for the new season of the
X Factor
.
Billboard
reports both pop stars appeared at Fox's Upfronts presentation in New York on Monday for the big reveal and to help the failing show come off a nightmare of a first season, which saw two judges and a lame host bounced from the series.
"I am so excited about this whole experience. It's gonna be so much fun and so different from anything I've ever done,"
Spears, clad in a body-hugging eggshell-white dress, said from the stage halfway through Fox's annual presentation to advertisers.
"I'm ready to find the true star."
"Well we delivered,"
producer and judge
Simon Cowell
said as soon as the new cast hit the stage.
"Rumors are one thing, but delivery is something else."
Lovato was equally enthused about the new gig.
"I am totally stoked to be here because of not only the opportunity to be a judge here but the presence of you guys is just an honor to be standing next to you."
Perhaps most excited of all was returning judge
L.A. Reid
, who exclaimed,
"I'm the luckiest guy in the planet, standing next to these three. This is the Rolls Royce of television right here."
The program has yet to announce a new host, following the dismissal of British TV's
Steve Jones
, who was a terrible fit and lacked any kind of personality.
Britney Spears
Demi Lovato
See also:
Demi Lovato to join Britney Spears as X Factor judge
Britney Spears signs deal to join X Factor
Britney Spears to become X Factor judge
Madonna & Britney Spears flirt on Twitter
VIDEO: Simon Cowell talks Britney Spears on X Factor
Britney Spears nearing deal to become X Factor judge
VIDEO: Madonna calls Britney Spears a 'good kisser'
AUDIO: Britney Spears - 'Look Who's Talking Now' demo leaked
AUDIO: Britney Spears' 'Secret' demo leaked
AUDIO: 2 unreleased Britney Spears songs leaked online
Britney Spears has Rolling Stone's Top Song of 2011
Britney Spears gets engaged
VIDEO: Britney Spears dances to Marilyn Manson
Backstreet Boy to open for Britney Spears