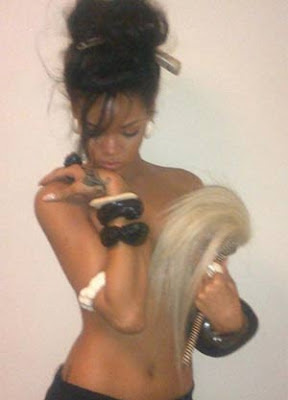 Rihanna
turned some heads this week with a topless photo on Twitter.
The picture was posted with the caption,
"Where have you been all my life?"
a reference to a lyric in her song
"Where Have You Been,"
from her latest album
"Talk That Talk."
Part of the reason for the tweet was to let fans know she's filming a video for the track, as she confirmed with a follow-up tweet:
"Video shoot goin MAJAH!!! Longest day everrrrr tho!!! #WHEREhaveUbeen #stillgoin."
No word on whether
Rihanna
will be topless in the actual video, but fans will have to wait to find that out for themselves.
Rihanna
Rihanna –

Where Have You Been
See also:
Rihanna to play Whitney Houston in film?
Rihanna & Chris Brown to reunite on American Idol?
Rihanna tops the popmusiclife Pop 10
Chris Brown collaboration was Rihanna's idea
AUDIO: Chris Brown & Rihanna – Turn Up The Music
AUDIO: Rihanna & Chris Brown – Birthday Cake remix
VIDEO: Rihanna – The Road To Talk That Talk part 2
VIDEO: Rihanna – The Road To Talk That Talk part 1
Rihanna sets Vevo record with 2 billion views
Rihanna to perform with Coldplay at the Grammys
Rihanna brags about smoking pot
AUDIO: Rihanna ft. Flo Rida – We Found Love remix
Rihanna tops Lady Gaga as YouTube Queen
Rihanna announces 'Talk That Talk' as next single
NEW VIDEO: Rihanna – You Da One
VIDEO: Behind the scenes for Rihanna's You Da One
Rihanna: Most-liked musician on Facebook in 2011
Rihanna album sets records by topping UK charts
VIDEO: Rihanna spends time with her family
Rihanna's We Found Love video banned in France
Rihanna, Lady Gaga leads this week's new releases
VIDEO: Rihanna appears on the Ellen DeGeneres show
MONDAY: Free Rihanna deal at Best Buy
VIDEO: Rihanna rocks The X Factor
The inside scoop on Rihanna's X Factor appearance tonight