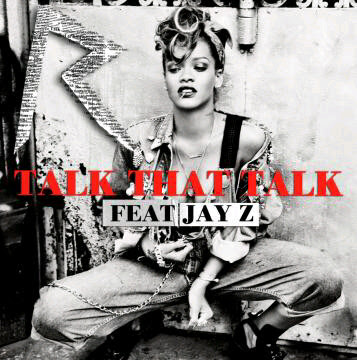 Rihanna
has announced that the title track to her latest album,
"Talk That Talk,"
will be her next single.
"#TALKthatTALK love u guys! Been missin u,"
tweeted the pop superstar late Tuesday night, along with a link to the cover art for the track (see above).
The tune, which features
Jay-Z
, will be the third single from the album, following the massive hit
"We Found Love,"
and her current, island-inspired love song
"You Da One"
– both which are still riding high on the U.S. charts.
"Talk That Talk"
is #6 on this week's Billboard Hot 200 albums chart.
Rihanna
Rihanna –

Talk That Talk (ft. Jay-Z)
See also:
NEW VIDEO: Rihanna – You Da One
VIDEO: Behind the scenes for Rihanna's You Da One
Rihanna: Most-liked musician on Facebook in 2011
Rihanna album sets records by topping UK charts
VIDEO: Rihanna spends time with her family
Rihanna's We Found Love video banned in France
Rihanna, Lady Gaga leads this week's new releases
VIDEO: Rihanna appears on the Ellen DeGeneres show
MONDAY: Free Rihanna deal at Best Buy
VIDEO: Rihanna rocks The X Factor
The inside scoop on Rihanna's X Factor appearance tonight
Rihanna, Usher added to Grammy Nominations Concert
VIDEO: Rihanna's fans pump up the show
VIDEO: Rihanna's dancers jam to We Found Love
Rihanna to perform on X Factor this week
VIDEO: Rihanna's recording process for Talk That Talk
VIDEO: Watch Rihanna's pre-show warm-up
Rihanna samples Metallica on her new album
VIDEO: Rihanna hangs with producers Stargate
Rihanna stays at #1 on Billboard Hot 100
VIDEO: Rihanna's LOUD tour hits Paris
Rihanna confirms Jay-Z on Talk That Talk
VIDEO: Rihanna's band rehearses We Found Love
VIDEO: Rihanna Talk That Talk Countdown #5
VIDEO: Rihanna Talk That Talk Countdown - Day 4
VIDEO: Rihanna Talk That Talk Countdown - Day 3
VIDEO: Rihanna Talk That Talk Countdown - Day 2
VIDEO: Rihanna Talk That Talk Countdown - Day 1
Rihanna reveals Talk That Talk song list
Rihanna tops Billboard Hot 100
Rihanna, Coldplay top iTunes charts
AUDIO: Coldplay cover Rihanna's We Found Love
Hot new Rihanna video leaves Irish politician cold