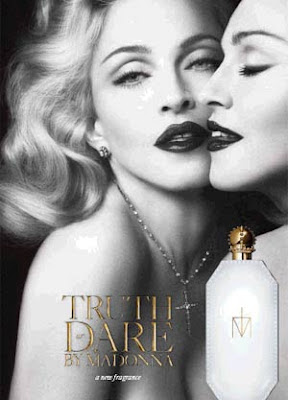 Madonna
has released her new album,
"MDNA,"
and fans can expect to see plenty of her in the coming months.
The pop icon's world tour starts May 29 in Tel Aviv, Israel, with North American dates beginning August 28 in Philadelphia.
Next month,
Madonna
launches her first fragrance,
Truth Or Dare
, which will be available exclusively at Macy's.
TOD will come packaged in a geometric white bottle, with gold trim.
"My oldest memory of my mother is her perfume,"
said Madonna in a statement.
"I carry it with me everywhere. She always smelled like gardenias and tuberose. An intoxicating mixture. Feminine and mysterious. I wanted to recreate this scent but with something fresh and new about it as well. Something honest and yet daring. Hence the name

Truth or Dare

."
The Material Girl also expounded on the idea of scent being tied to memory, saying,
"There is something primal and mystical about the sense of smell. It connects us to memory, nostalgia and the ability to dream and fantasize. I have always been obsessed by fragrance and for years wanted to create something personal that was an expression of me, but that other people could relate to as well. Something classical and timeless and yet modern."
Now, the first commercial for the new product line has surfaced.
See also:
VIDEO: Madonna – Gang Bang
VIDEO: Madonna kisses Nicki Minaj on her birthday
VIDEO: Madonna's MDNA Facebook interview
Madonna teams with liquor company for MDNA Remix album
VIDEO: Madonna – Girl Gone Wild
PHOTOS: Madonna practices tightrope walking for tour
AUDIO: Madonna previews Best Friend
AUDIO: Madonna – I Fucked Up
PHOTOS: Madonna releases new MDNA pictures
AUDIO: Madonna previews Falling Free
AUDIO: Madonna previews Superstar
VIDEO: Madonna – Girl Gone Wild preview
PHOTO: Madonna shares bruises from tour rehearsals
AUDIO: Preview new Madonna – Gang Bang
AUDIO: Preview new Madonna – Love Spent
AUDIO: Preview new Madonna - I'm Addicted
AUDIO: Madonna – Girl Gone Wild
Madonna shooting Girl Gone Wild video this week
Madonna extends US Top 10 record to 38 songs
AUDIO: Madonna talks about M.I.A.'s Super Bowl middle finger
Madonna announces 2012 world tour
Super Bowl profile increases Madonna's music sales
Madonna's Super Bowl show watched by 114 million
VIDEO: Madonna rocks the Super Bowl
VIDEO: Madonna – Give Me All Your Luvin'