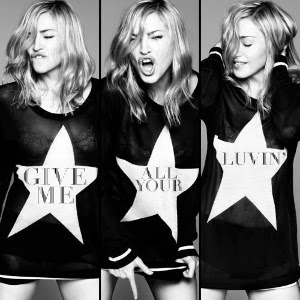 Madonna
's Super Bowl weekend kicks off with the release of her new video/single,
"Give Me All Your Luvin'."
The song is the first music issued from her forthcoming album,
"MDNA,"
due March 26,
The track features
Nicki Minaj
and
M.I.A.
, and both are set to join the pop icon at her Super Bowl Halftime Show on Sunday….along with
LMFAO
and
Cee Lo Green
.
Traditionally one of the most-watched music events of the year, Madonna's Super Bowl performance is expected to be seen by at least 100 million viewers.
The 2012 Super Bowl takes place at Lucas Oil Stadium in Indianapolis on Sunday, February 5. Kick-off time is 6:30 PM ET.
Madonna
Madonna –

Give Me All Your Luvin'
See also:
Madonna reveals MDNA track list
Madonna: 2012 Tour tickets on sale after Super Bowl
VIDEO: Madonna – Give Me All Your Luvin' preview
Madonna reveals MDNA cover art
VIDEO: Madonna interviewed on The Tonight Show
M.I.A. confirms Super Bowl gig with Madonna and Nicki Minaj
Madonna to debut new video teaser on American Idol
Madonna single drops this Friday
VIDEO: Madonna in the studio with M.I.A.
RUMOR: Cee Lo Green to join Madonna at Super Bowl
LMFAO to join Madonna at Super Bowl
Madonna drops hint about Super Bowl performance
VIDEO: Madonna wins Golden Globe, battles host Ricky Gervais
Madonna to present at Golden Globe Awards
VIDEO: Madonna calls Britney Spears a 'good kisser'
Madonna: 'Lady Gaga reminds me of myself'
Madonna announces title of new album
VIDEO: Madonna on Nightline preview
Madonna to duet with Kylie Minogue?
Spanish man arrested for Madonna song leak
Madonna: Super Bowl & Halftime Show to be streamed live
Madonna: New film earns 2 Golden Globe nominations
Madonna: New single due next month
Madonna to headline Super Bowl halftime show
Madonna upset over song leak