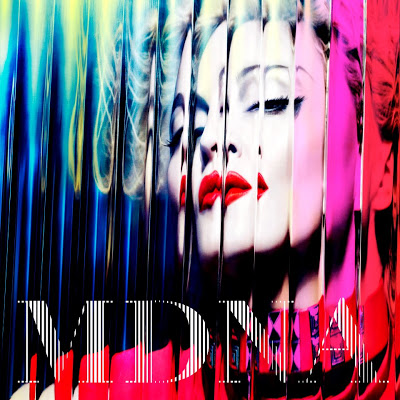 Madonna
's 12th studio album will be released March 26.

"MDNA,"
recorded in New York and LA, reunites
Madonna
with former collaborator
William Orbit
("Ray of Light") who co-wrote and co-produced several cuts on the new album.
The album's first single,
"Give Me All Your Luvin"
, which features
Nicki Minaj
and
M.I.A.
, drops Friday, February 3.
Madonna has revealed the 15 track song list for the
MDNA
Deluxe Edition.
Madonna
MDNA
Release date: March 26, 2012
01 – Girls Gone Wild
02 – Gang Bang
03 – I'm Addicted
04 – Some Girls
05 – I Don't Give A
06 – Turn Up the Radio
07 – Give Me All Your Luvin'
08 – B-day Song
09 – Superstar
10 – I'm a Sinner
11 – Masterpiece
12 – Falling Free
13 – Love Spent
14 – I Fucked Up
15 – Beautiful Killer
Madonna
Madonna –

Give Me All Your Luvin' (preview)
See also:
Madonna: 2012 Tour tickets on sale after Super Bowl
VIDEO: Madonna – Give Me All Your Luvin' preview
Madonna reveals MDNA cover art
VIDEO: Madonna interviewed on The Tonight Show
M.I.A. confirms Super Bowl gig with Madonna and Nicki Minaj
Madonna to debut new video teaser on American Idol
Madonna single drops this Friday
VIDEO: Madonna in the studio with M.I.A.
RUMOR: Cee Lo Green to join Madonna at Super Bowl
LMFAO to join Madonna at Super Bowl
Madonna drops hint about Super Bowl performance
VIDEO: Madonna wins Golden Globe, battles host Ricky Gervais
Madonna to present at Golden Globe Awards
VIDEO: Madonna calls Britney Spears a 'good kisser'
Madonna: 'Lady Gaga reminds me of myself'
Madonna announces title of new album
VIDEO: Madonna on Nightline preview
Madonna to duet with Kylie Minogue?
Spanish man arrested for Madonna song leak
Madonna: Super Bowl & Halftime Show to be streamed live
Madonna: New film earns 2 Golden Globe nominations
Madonna: New single due next month
Madonna to headline Super Bowl halftime show
Madonna upset over song leak