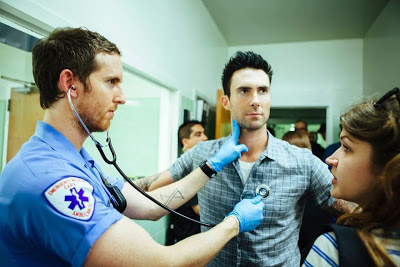 Maroon 5
have released a video for their new single,
"Maps."
The song is the lead track from the band's forthcoming fifth studio album,
"V"
, due September 2.
Last week,
"Maps"
debuted at No. 14 on the US Billboard Hot 100 chart.
Produced by
Max Martin, Benny Blanco, Ryan Tedder, Shellback, Sam Martin
and
Noah "Mailbox" Passovoy, "V"
was recorded by the band in Los Angeles over a year-long period from 2013 through to mid-2014.
The project is the follow-up to 2012's
"Overexposed"
release, which delivered four top-10 hits on the Billboard Hot 100, including a No. 1 in
"One More Night."
See also:
Maroon 5 single Maps debuts on US charts
Maroon 5 release new single Maps
VIDEO: Maroon 5 perform on The Today Show
Maroon 5 release video for Love Somebody
Maroon 5 announce summer tour with Kelly Clarkson