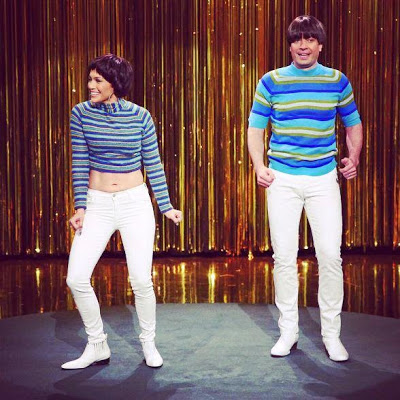 Jennifer Lopez
made a surprise appearance this past week on The Tonight Show starring Jimmy Fallon.
J-Lo was on hand to do the "tight pants" dance with Fallon, a showdown to see which dancer has the tightest pants in town.
Fallon has previously held the tight pants duel with actor/comedian
Will Ferrell
.
Lopez will release her eighth album,
"A.K.A.",
on June 17.
See also:
Jennifer Lopez to return to American Idol?
VIDEO: Jennifer Lopez ft. Pitbull – Live It Up
Jennifer Lopez tops World's Most Powerful Celebrities list
VIDEO: Jennifer Lopez – Goin' In ft. Flo Rida
VIDEO: Jennifer Lopez previews Goin' In ft. Flo Rida