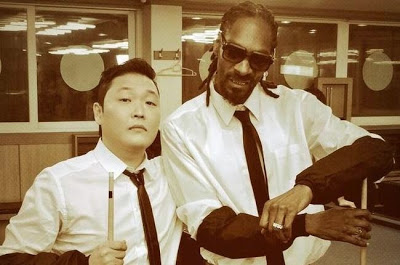 Korean rapper
Psy
has released a video for his new single,
"Hangover"
, featuring
Snoop Dogg.
Filmed earlier this year, the track is from
Psy
's forthcoming album.
"Hangover"
surfaces two weeks after
Psy
's worldwide smash,
"Gangnam Style"
, surpassed 2 billion views on YouTube since its 2012 release.
"2 billion views...they are very honorable and very burdensome numbers,"
Psy
said via a statement. "With appreciation, I will come back soon with more joyful contents!!"
The video for the song, which appeared on the EP,
"Psy 6 (Six Rules), Part 1"
, was the most-watched YouTube clip in each of the past 3 years.
See also:
Psy's Gangnam Style hits 2 billion YouTube views
Psy shoots new video with Snoop Dogg and G-Dragon
Psy performs US finale of Gangnam Style
Psy: Gangnam Style becomes most-watched YouTube video ever
VIDEO: Madonna goes Gangnam Style with Psy in New York
MASHUP: Carly Rae Jepsen vs Psy – Call Me Gangnam