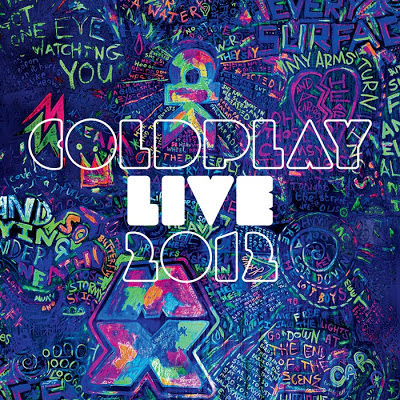 Coldplay
are gearing up to release
"Live 2012,"
a concert film from their acclaimed Mylo Xyloto world tour.
Due November 20,
"Live 2012"
includes footage from Coldplay's shows at Paris's Stade de France, Montreal's Bell Centre and last year's triumphant Pyramid Stage headline performance at Glastonbury Festival.
The set will be available on CD/DVD, Blu-ray/CD and digitally.
Premium network
EPIX
will premiere
"Live 2012"
in the U.S. on Saturday, November 17.
Now, the network is sharing a preview of the film and some behind the scenes footage, as well.
Coldplay
will wrap up the Mylo Xyloto tour – which started in June of 2011 - next month with a series of shows in Australia.
Coldplay
See also:
VIDEO: Coldplay preview EPIX concert special
VIDEO: Rihanna, Coldplay and Jay-Z close Paralympics
VIDEO: Rihanna joins Coldplay in Paris
VIDEO: Coldplay rock American Idol
Coldplay to appear on American Idol
VIDEO: Coldplay rock Jimmy Kimmel's post-Oscars show
VIDEO: Coldplay – Charlie Brown
Rihanna to perform with Coldplay at the Grammys
Coldplay to earn $1.5 million for New Year's Eve show
Coldplay singer kicks fan off his property
Coldplay announce 2012 North American tour
VIDEO: Coldplay rock Jimmy Fallon
Spend New Year's Eve with Coldplay on Austin City Limits
Coldplay tops Billboard album chart
Rihanna, Coldplay top iTunes charts
Coldplay sets UK digital sales record
AUDIO: Coldplay cover Rihanna's We Found Love
NOW: Coldplay LIVE in concert
Coldplay and Kelly Clarkson lead today's new releases