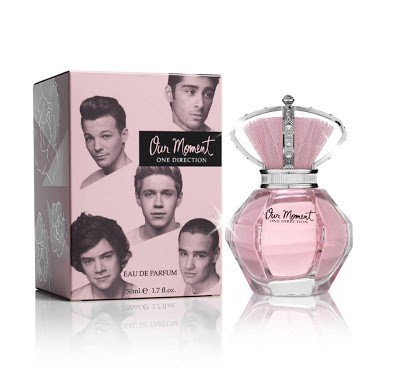 One Direction
officially launched their new fragrance,
"Our Moment,"
in London on Thursday (June 7).
According to
Radio.com
, the press were invited to a launch party at the top of the iconic Gherkin building in London, where the guys unveiled their fragrance, which Vogue UK reports contains notes of grapefruit, red current and wild berries.
In a video of the event, posted b
y One Direction
to YouTube,
Louis Tomlinson
and
Zayn Malik
expressed their hopes that the fans will enjoy and "have fun" with the fragrance.
"Fans always want to know what we like and what we don't like,"
said Niall Horan.
"So we wanted to show them what we like, smell-wise, on girls."
See also:
One Direction announce title of their upcoming book
One Direction release video for One Way Or Another charity single
One Direction release Kiss You video
One Direction land second million-selling album this year
One Direction featured on Barbara Walters special
VIDEO: One Direction appear on Late Show with David Letterman
VIDEO: One Direction perform Little Things with Ed Sheeran in New York
One Direction: Take Me Home debuts at top of US charts
One Direction: Behind the scenes of the Little Things video
One Direction perform on Ellen
One Direction expected to debut at top of US charts
VIDEO: One Direction perform on The X Factor
One Direction preview Kiss You as new single
One Direction release video for Little Things
One Direction preview Little Things video
One Direction top the popmusiclife Pop 10
VIDEO: One Direction perform Live While We're Young unplugged
One Direction: Behind the scenes of Live While We're Young video
One Direction release Live While We're Young video following online leak
One Direction settle band name lawsuit
One Direction reveal new album cover, release date
One Direction reveal title of new album
One Direction film video for Live While We're Young
One Direction announce release date for new single
VIDEO: One Direction perform on Radio Disney
One Direction announce release date for new single
One Direction top the popmusiclife Pop 10 for 2nd week
One Direction announce 2013 tour
VIDEO: One Direction rock Saturday Night Live
One Direction top the popmusiclife Pop 10
VIDEO: One Direction rock Kid's Choice Awards
One Direction announce North American tour
One Direction makes US chart history with #1 debut