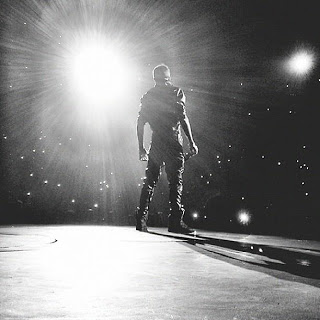 Justin Bieber is making headlines after Swedish police found drugs on his tour bus in Stockholm Wednesday night.
Swedish paper
Aftonbladet
reports the incident began when police could smell marijuana from outside the singer's tour bus when it was parked outside of the Grand Hotel.
After the bus left the hotel on its way to Justin's show at the Globe Arena, an officer contacted the narcotics unit, which issued a warrant to search the vehicle.
At 8.40 pm, only half an hour after Bieber hit the stage, the police raided the tour bus parked outside the arena.
"We carried out a search and we found a small amount of alleged narcotics," said a police spokesperson. "We found a small amount of alleged narcotics and an electroshock weapon."
No one was reportedly on the bus at the time, and police have sent the drugs to a lab for analysis.
At press time,
TMZ
reported that police do not expect to charge anyone because they don't know who was in possession of the drug, which was found on the floor of the bus.
Justin Bieber
See also:
Justin Bieber releases lyric video for Right Here ft. Drake
Justin Bieber makes US chart history
Justin Bieber tops the popmusiclife Pop 10
Justin Bieber performs acoustic Boyfriend on Ellen
Did Justin Bieber grope fan at meet and greet?
Justin Bieber previews Believe Acoustic with live clip
Justin Bieber passes Lady Gaga as Twitter champ
Justin Bieber to host Saturday Night Live
Justin Bieber reveals unreleased tracks on Believe Acoustic
VIDEO: Justin Bieber performs on New Year's Rockin' Eve
Justin Bieber announces second leg of Believe tour
VIDEO: Justin Bieber performs at Victoria's Secret Fashion Show
VIDEO: Drake joins Justin Bieber in Toronto
Justin Bieber tops the popmusiclife Pop 10
Justin Bieber speechless over breakup with Selena Gomez
Justin Bieber throws up on stage on opening night of Believe tour
VIDEO: Justin Bieber performs on America's Got Talent finale
Justin Bieber to appear on The Simpsons
Justin Bieber tops the popmusiclife Pop 10
VIDEO: Justin Bieber holding online search for dancers
VIDEO: Justin Bieber – As Long As You Love Me
VIDEO: Justin Bieber previews As Long As You Love Me
Justin Bieber tops the popmusiclife Pop 10
Justin Bieber teases new video release
VIDEO: Justin Bieber rocks Teen Choice Awards
VIDEO: Justin Bieber performs on Australia's Got Talent finale
VIDEO: Justin Bieber's Rolling Stone cover shoot
VIDEO: Justin Bieber performs acoustic set in Germany
Justin Bieber tops US album charts
Justin Bieber tops UK album charts
Justin Bieber tops the popmusiclife Pop 10
VIDEO: Justin Bieber rocks Letterman
VIDEO: Justin Bieber rocks Today Show
AUDIO: Justin Bieber – Hear complete Believe album
AUDIO: Justin Bieber ft. Big Sean – As Long As You Love Me
Justin Bieber tops the popmusiclife Pop 10 for 2nd week
AUDIO: Justin Bieber ft. Ludacris - All Around The World