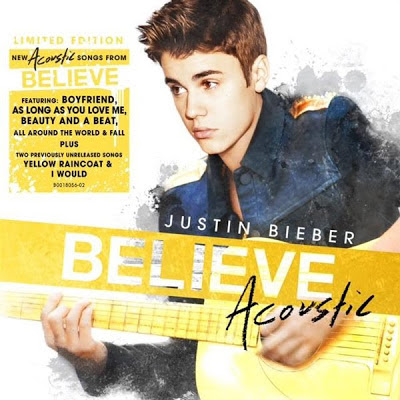 Justin Bieber
drops his
"Believe Acoustic"
album on January 29.
The project will feature 11 tunes, including two previously unreleased songs.
On Saturday, Justin tweeted an updated photo of the album's cover; the image included a sales sticker on the front that listed the names of the two tracks:
"Yellow Raincoat"
and
"I Would."
Justin continues his North American "Believe" tour this week with shows in Denver, CO., Tulsa, OK., North Little Rock, AR., and San Antonio, TX.
Justin Bieber
See also:
VIDEO: Justin Bieber performs on New Year's Rockin' Eve
Justin Bieber announces second leg of Believe tour
VIDEO: Justin Bieber performs at Victoria's Secret Fashion Show
VIDEO: Drake joins Justin Bieber in Toronto
Justin Bieber tops the popmusiclife Pop 10
Justin Bieber speechless over breakup with Selena Gomez
Justin Bieber throws up on stage on opening night of Believe tour
VIDEO: Justin Bieber performs on America's Got Talent finale
Justin Bieber to appear on The Simpsons
Justin Bieber tops the popmusiclife Pop 10
VIDEO: Justin Bieber holding online search for dancers
VIDEO: Justin Bieber – As Long As You Love Me
VIDEO: Justin Bieber previews As Long As You Love Me
Justin Bieber tops the popmusiclife Pop 10
Justin Bieber teases new video release
VIDEO: Justin Bieber rocks Teen Choice Awards
VIDEO: Justin Bieber performs on Australia's Got Talent finale
VIDEO: Justin Bieber's Rolling Stone cover shoot
VIDEO: Justin Bieber performs acoustic set in Germany
Justin Bieber tops US album charts
Justin Bieber tops UK album charts
Justin Bieber tops the popmusiclife Pop 10
VIDEO: Justin Bieber rocks Letterman
VIDEO: Justin Bieber rocks Today Show
AUDIO: Justin Bieber – Hear complete Believe album
AUDIO: Justin Bieber ft. Big Sean – As Long As You Love Me
Justin Bieber tops the popmusiclife Pop 10 for 2nd week
AUDIO: Justin Bieber ft. Ludacris - All Around The World