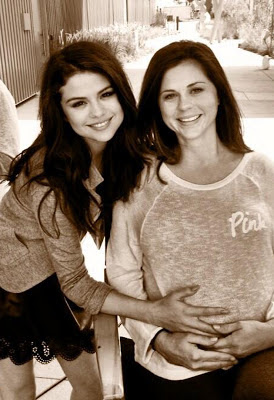 Selena Gomez
took to twitter on Mother's Day to announce her mom's pregnancy.
The singer shared a photo of herself with mother
Mandy
, who is already showing a baby bump.
"Hope all the amazing moms had a great day!," Selena tweeted. "I have the best momma in the world. I love you so much!" So cute!"
The good news in the Gomez household follows the December 2011 miscarriage by
Mandy
, which the singer shared with her fans at the time.
Selena recently released the video for her single,
"Come & Get It"
; it's from her next album, which is planned for release later this summer.
Selena Gomez & the Scene
See also:
Selena Gomez tops the popmusiclife Pop 10
PHOTO: Selena Gomez previews Come & Get It video
VIDEO: Selena Gomez performs Come & Get It on Letterman
VIDEO: Selena Gomez debuts new single on Ryan Seacrest's show
Selena Gomez previews Come & Get It video
Selena Gomez to perform new single at MTV Movie Awards
Selena Gomez & Jimmy Fallon perform Mario Kart Love Song
VIDEO: Selena Gomez laughs about Justin Bieber on Letterman
Selena Gomez streams new song following leak
VIDEO: Selena Gomez – Hit The Lights remix
NEW VIDEO: Selena Gomez – Hit The Lights
VIDEO: Selena Gomez performs at 2011 MTV EMAs
VIDEO: Selena Gomez promotes MTV Europe Music Awards
Justin Bieber joins Selena Gomez in Winnipeg