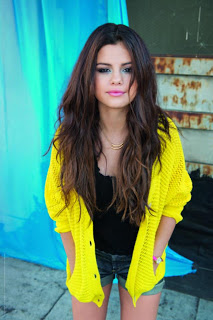 Selena Gomez
shared some laughs about ex-boyfriend
Justin Bieber
during her visit to Late Night with David Letterman on Monday.
On hand to promote her new movie,
"Spring Breakers,"
Letterman asked if Gomez was dating and that she had been seeing Bieber the last time she appeared on the program.
"No, I'm single, I'm so good,"
she said.
"The last time he was on,"
Letterman continued,
"he and I got into a conversation, he said something and I said something, and he said something and I made him cry."
Selena offered a quick-witted reply to the host's inquiry – watch the video below to see what she had to say.
Earlier this week, Gomez posted a stream of her new song,
"Rule The World,"
after it was leaked online.
Selena Gomez & the Scene
See also:
Selena Gomez streams new song following leak
VIDEO: Selena Gomez – Hit The Lights remix
NEW VIDEO: Selena Gomez – Hit The Lights
VIDEO: Selena Gomez performs at 2011 MTV EMAs
VIDEO: Selena Gomez promotes MTV Europe Music Awards
Justin Bieber joins Selena Gomez in Winnipeg