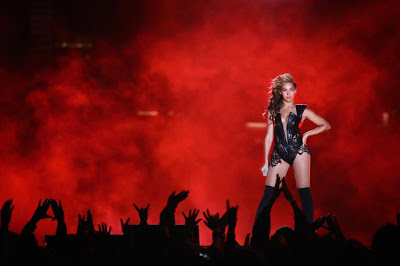 Beyonce
has banned professional photographers from her current tour, The Mrs. Carter Show.
Media outlets have been advised that "there are no media credentials for this show. Local news outlets, including print and online will be given a link to download photos from every show."
The move by the pop diva to control her image follows the fallout from
Beyonce
's Super Bowl appearance in February, when media published what the singer considered some unflattering photos of her Halftime performance.
At the time, it was reported that
Beyonce
's publicist,
Yvette Noel-Schure
, contacted various outlets to request that some very specific images were taken offline.
The unusual request made headlines itself at the time and the move, ironically, shone more light on the images than there otherwise might have been, with many turning into viral memes.
Beyonce
kicked off a European tour last week.
Beyoncé
See also:
Beyonce drops angry new song
Beyonce announces world tour
VIDEO: Beyonce reunites Destiny's Child at Super Bowl
Beyonce proud of lip-sync performance at Inauguration
REPORT: Beyonce lip-synced anthem at Obama Inauguration
Beyonce sings national anthem at Obama Inauguration
Beyonce to perform Super Bowl 47 halftime show
VIDEO: Beyonce sings for World Humanitarian Day
PHOTOS: Beyonce at the United Nations
Beyonce teams with United Nations for World Humanitarian Day
VIDEO: Beyonce praises First Lady in re-election campaign video
Beyonce, Pitbull & Steven Tyler cast in new animated film
Beyonce to perform over Memorial Day weekend
Beyonce to star in film directed by Glee creator
Beyonce working on two albums for 2012
First pictures of Beyonce's baby Blue Ivy surface
Beyonce announces remix contest
Jay Z and Blue Ivy Carter top the popmusiclife Pop 10
Blue Ivy Carter youngest person ever to hit Billboard charts
AUDIO: Jay-Z releases new song featuring Blue Ivy Carter
Beyoncé's baby shares name with event planning company
Beyoncé gives birth to baby girl
Beyonce tops the popmusiclife Pop 10
Tiana-May Carter is rumored name for Beyonce's baby girl
Beyonce shares her Top 10 songs of 2011
VIDEO: Watch Beyonce's tribute to Michael Jackson
VIDEO: Beyonce - I Care