This past spring,
Beyonce
posted an enthusiastic note of admiration to US
First Lady Michelle Obama
, praising her as
"the ultimate example of a truly strong African American woman."
The First Lady acknowledged the note with a tweet of her own, writing,
"Thank you for the beautiful letter and for being a role model who kids everywhere can look up to. –mo"
Now, the pop star's love letter has been turned into a video as part of the re-election campaign for
President Barack Obama
.
Before
Beyonce
reads her letter, she introduces it by saying
"I wrote a letter to the First Lady because I wanted her to know that I'm very grateful for everything she's doing for our country, and also for women around the world."
Beyonce
has been an active supporter of the Obama camp over the years: she performed during the inauguration celebrations for The President in January 2009 and, this past May, the First Lady took daughters
Sacha
and
Malia
to
Beyonce
's concert in Atlantic City, N.J.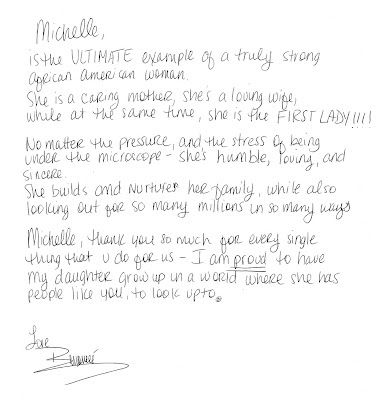 See also:
Beyonce, Pitbull & Steven Tyler cast in new animated film
Beyonce to perform over Memorial Day weekend
Beyonce to star in film directed by Glee creator
Beyonce working on two albums for 2012
First pictures of Beyonce's baby Blue Ivy surface
Beyonce announces remix contest
Jay Z and Blue Ivy Carter top the popmusiclife Pop 10
Blue Ivy Carter youngest person ever to hit Billboard charts
AUDIO: Jay-Z releases new song featuring Blue Ivy Carter
Beyoncé's baby shares name with event planning company
Beyoncé gives birth to baby girl
Beyonce tops the popmusiclife Pop 10
Tiana-May Carter is rumored name for Beyonce's baby girl
Beyonce shares her Top 10 songs of 2011
VIDEO: Watch Beyonce's tribute to Michael Jackson
VIDEO: Beyonce - I Care