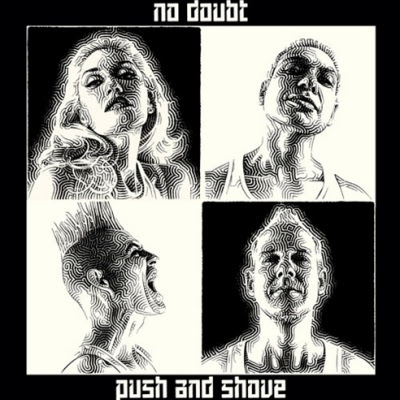 No Doubt
's first album in 11 years,
"Push And Shove,"
is set for release on September 25.
The project's lead single,
"Settle Down,"
is out now.
In their latest webisode,
No Doubt
are giving fans a behind the scenes look at the creation of the cover art for the album.
"Today's gonna be fun because we're meeting with the artist who's going to be doing artwork for the album,"
says singer
Gwen Stefani
.
"His name is El Mac; he is a street artist. He's actually from Arizona, but he has murals that he's done here in L.A. and all around the world," she continued. "Today he's coming to meet with the band, hear some songs, get a vibe. I'm really excited about it!"

"His technique, his ability is just mind-blowing,"
continues Gwen,
"so the idea of him working with us on this album..it'll be classic."
No Doubt
See also:
AUDIO: No Doubt's Settle Down gets the remix treatment
No Doubt: Gwen Stefani has no plans to go solo again
VIDEO: No Doubt rock Jimmy Fallon
VIDEO: No Doubt debut new single at Teen Choice Awards
VIDEO: No Doubt – Settle Down
VIDEO: No Doubt film Settle Down video
VIDEO: No Doubt – Settle Down preview
Lady Gaga can't wait for new No Doubt album
VIDEO: No Doubt in the studio
VIDEO: No Doubt – Behind the scenes of Settle Down music video
No Doubt confirm new album title
VIDEO: In the studio with No Doubt