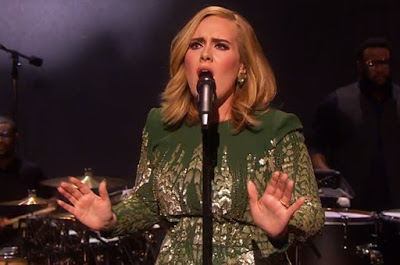 Adele
is previewing the first live performance of her new single,
"Hello"
, as part of an upcoming BBC 1 TV special to launch her album
"25."
Set for broadcast on November 20 – the same day
"25"
hits stores –
"Adele At The BBC"
showcases an interview and performance from the UK pop star in front of a live audience.
Hosted by
Graham Norton
, the 1-houtr special sees
Adele
answer questions from fans, including a rumor that she isn't allowed to use Twitter without supervision.
"I mean, I'm not a drinker anymore,"
explains
Adele
.
"But when Twitter first came out, I was drunk tweeting and nearly put my foot in it quite a few times. My management decided, 'You have to go through two people and then it has to be signed off by someone.'

"But they're all my tweets. No one writes my tweets – they just post them for me."
"Hello"
is smashing all kinds of records since its release, which saw it debut at No. 1 in both the UK and the US.
The tune delivered
the biggest opening week for a No. 1 UK single in three years
and a record-breaking 7.32 million UK streams, while becoming
the first-ever song to sell at least 1 million US downloads in a week
.
Adele
will launch
"25"
with a concert at Radio City Music Hall in New York on November 17 and
a performance on NBC-TV's Saturday Night Live on November 21
.
See also:
Adele: Hello smashes download record on way to US No. 1
Adele smash Hello debuts at No. 1 on UK charts
Adele: Hello video makes biggest YouTube debut of 2015
Adele to launch 25 album on Saturday Night Live
Search Adele at popmusiclife