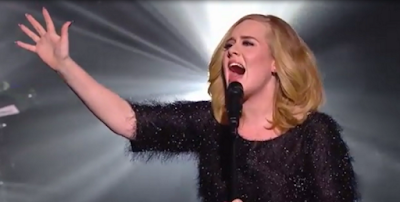 Adele
performed her smash hit
"Hello"
at the NRJ Music Awards in Cannes, France on November 7.
The annual event, which honors the best in the French and worldwide music industries, also saw performances by
Coldplay, Justin Bieber
and
Sting
, among others.
The appearance marked the UK singer's second live performance of 2015 following
a recent taping for the upcoming TV special "Adele At The BBC."
Hosted by
Graham Norton
, the BBC 1 program will air on November 20 – the same day Adele's third album
"25"
hits stores.
Produced by
Greg Kurstin
, the project is the follow-up to
Adele
's 2011 smash,
"21"
, which has sold more than 30 million copies worldwide.
"My last record was a break-up record,"
says
Adele
,
"and if I had to label this one I would call it a make-up record. I'm making up with myself. Making up for lost time. Making up for everything I ever did and never did. But I haven't got time to hold on to the crumbs of my past like I used to. What's done is done.

"Turning 25 was a turning point for me, slap bang in the middle of my twenties. Teetering on the edge of being an old adolescent and a fully-fledged adult, I made the decision to go into becoming who I'm going to be forever without a removal van full of my old junk. I miss everything about my past, the good and the bad, but only because it won't come back.

"25 is about getting to know who I've become without realizing," she adds, "And I'm sorry it took so long, but you know, life happened."
See also:
VIDEO: Adele's first live performance of Hello
Adele: Hello smashes download record on way to US No. 1
Adele smash Hello debuts at No. 1 on UK charts
Adele: Hello video makes biggest YouTube debut of 2015
Search Adele at popmusiclife