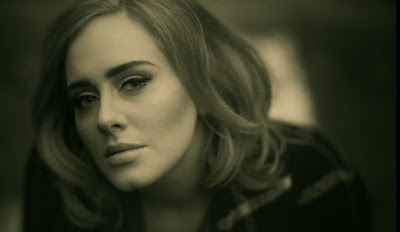 UK pop singing sensation
Adele
will release her long-awaited third album,
"25"
, on November 20.
Produced by
Greg Kurstin
, the follow-up to 2011's smash
"21"
is being previewed with the lead single,
"Hello."
"My last record was a break-up record,"
says Adele,
"and if I had to label this one I would call it a make-up record. I'm making up with myself. Making up for lost time. Making up for everything I ever did and never did. But I haven't got time to hold on to the crumbs of my past like I used to. What's done is done.

"Turning 25 was a turning point for me, slap bang in the middle of my twenties. Teetering on the edge of being an old adolescent and a fully-fledged adult, I made the decision to go into becoming who I'm going to be forever without a removal van full of my old junk. I miss everything about my past, the good and the bad, but only because it won't come back."
"25 is about getting to know who I've become without realizing,"
she adds,
"And I'm sorry it took so long, but you know, life happened."
The life that happened includes
Adele
's son,
Angelo
, who was born in 2012 to the singer and her boyfriend
Simon Konecki
. That same year, the singer also issued the title track to the
James Bond
film,
"Skyfall."
Adele
has returned with a bang, as the video for
"Hello"
has already been viewed more than 63 million times in its first three days online, while the single is destined for a US No. 1 debut based on opened weekend sales.
Adele
"25"
Release date: November 20
1. "Hello"
2. "Send My Love (To Your New Lover)"
3. "I Miss You"
4. "When We Were Young"
5. "Remedy"
6. "Water Under The Bridge"
7. "River Lea"
8. "Love In The Dark"
9. "Million Years Ago"
10. "All I Ask"
11. "Sweetest Devotion"
See also:
Adele honored with MBE by Queen Elizabeth II
Adele to sing theme to next James Bond film
VIDEO: Adele performs and wins at the Oscars
Adele to perform Skyfall at the Academy Awards
Search Adele at popmusiclife