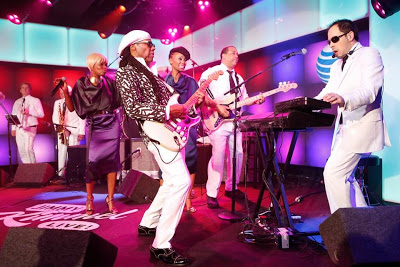 Chic featuring Nile Rodgers
performed a pair of tracks on Jimmy Kimmel Live on Tuesday.
The group delivered their classic disco hit,
"Good Times"
, and their newly-released single,
"I'll Be There"
, from the forthcoming album,
"It's About Time."
The project is the group's first new studio project in more than 20 years, since 1992's
"Chic-ism."
"As with all Chic albums, this one's based on a concept,"
says Rodgers.
"Four years ago I was stricken with very aggressive cancer and I wasn't sure how much time I had left. I decided the album's concept would be about time and I'd feature as many people from the lifespan of Chic that I could on it."
Rodgers formed
Chic
with bassist
Bernard Edwards
in New York in 1976. The group scored several hits during the disco era, including
"Le Freak", Everybody Dance"
and
"Dance, Dance Dance (Yowsah, Yowsah, Yowsah)."
In recent years, Rodgers has produced a series of hits for other artists, including
Daft Punk, Avicii, Adam Lambert
and
Duran Duran
.