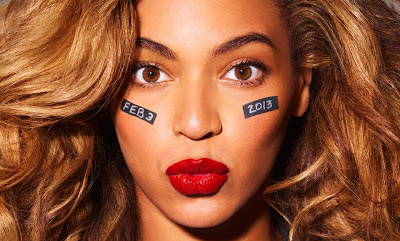 Beyonce
reunited with
Destiny's Child
at Super Bowl 47 in New Orleans on Sunday.
The pop star had 12 minutes at halftime to deliver as much music as possible, and she did just that.
Opening with a tease of
"Love on Top"
,
Beyonce
kicked into her first solo single,
"Crazy in Love,"
before hitting
"End of Time"
from her most recent album,
"4"
, and
"Baby Boy."
Destiny's Child
members
Kelly Rowland
and
Michelle Williams
joined the singer at center stage for a few tunes, including
"Bootylicious"
and
"Independent Woman: Part 1"
. Rowland and Williams' microphones were buried in the mix throughout so as not to compete with
Beyonce
's.
The girls then performed
Beyonce
's hit, "
Single Ladies (Put A Ring On It)"
, before exiting the stage so the main attraction could wrap things up with her power ballad
"Halo"
.
Beyoncé
See also:
Beyonce proud of lip-sync performance at Inauguration
REPORT: Beyonce lip-synced anthem at Obama Inauguration
Beyonce sings national anthem at Obama Inauguration
Beyonce to perform Super Bowl 47 halftime show
VIDEO: Beyonce sings for World Humanitarian Day
PHOTOS: Beyonce at the United Nations
Beyonce teams with United Nations for World Humanitarian Day
VIDEO: Beyonce praises First Lady in re-election campaign video
Beyonce, Pitbull & Steven Tyler cast in new animated film
Beyonce to perform over Memorial Day weekend
Beyonce to star in film directed by Glee creator
Beyonce working on two albums for 2012
First pictures of Beyonce's baby Blue Ivy surface
Beyonce announces remix contest
Jay Z and Blue Ivy Carter top the popmusiclife Pop 10
Blue Ivy Carter youngest person ever to hit Billboard charts
AUDIO: Jay-Z releases new song featuring Blue Ivy Carter
Beyoncé's baby shares name with event planning company
Beyoncé gives birth to baby girl
Beyonce tops the popmusiclife Pop 10
Tiana-May Carter is rumored name for Beyonce's baby girl
Beyonce shares her Top 10 songs of 2011
VIDEO: Watch Beyonce's tribute to Michael Jackson
VIDEO: Beyonce - I Care