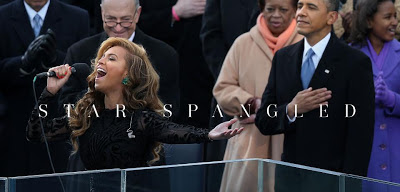 The
New York Post
is reporting
Beyoncé
's performance of the national anthem at President Obama's second inauguration on Monday was everything it should be: soaring, moving, symbolic and musically superlative.
It also wasn't live.
The R&B diva only pretended to sing, lip-syncing the words to a backing track. What the listeners heard was a version she had recorded at a Marine Corps studio in Washington on Sunday night, a spokeswoman for the Marine Band said.
The spokeswoman,
Master Sgt. Kristin duBois
, said the weather was good and the Marine Band had no trouble with intonation during most of the prelude and ceremony, nearly two and half hours of music. Still, at the last minute, she said, the band received word that
Beyoncé
would use a recorded version of the national anthem.
"We don't know why,"
Sergeant duBois said.
"But that is what we were instructed to do so that is what we did. It's not because Beyoncé can't sing. We all know Beyoncé can sing. We all know the Marine Band can play."
A publicist for
Beyoncé
did not immediately return telephone calls and e-mail messages from the paper.
Read more about it
here
.
There's no word yet on whether
Beyoncé
plans to lip-sync during her upcoming Super Bowl 47 Halftime Show appearance in New Orleans on February 3.
See also:
Beyonce sings national anthem at Obama Inauguration
Beyonce to perform Super Bowl 47 halftime show
VIDEO: Beyonce sings for World Humanitarian Day
PHOTOS: Beyonce at the United Nations
Beyonce teams with United Nations for World Humanitarian Day
VIDEO: Beyonce praises First Lady in re-election campaign video
Beyonce, Pitbull & Steven Tyler cast in new animated film
Beyonce to perform over Memorial Day weekend
Beyonce to star in film directed by Glee creator
Beyonce working on two albums for 2012
First pictures of Beyonce's baby Blue Ivy surface
Beyonce announces remix contest
Jay Z and Blue Ivy Carter top the popmusiclife Pop 10
Blue Ivy Carter youngest person ever to hit Billboard charts
AUDIO: Jay-Z releases new song featuring Blue Ivy Carter
Beyoncé's baby shares name with event planning company
Beyoncé gives birth to baby girl
Beyonce tops the popmusiclife Pop 10
Tiana-May Carter is rumored name for Beyonce's baby girl
Beyonce shares her Top 10 songs of 2011
VIDEO: Watch Beyonce's tribute to Michael Jackson
VIDEO: Beyonce - I Care