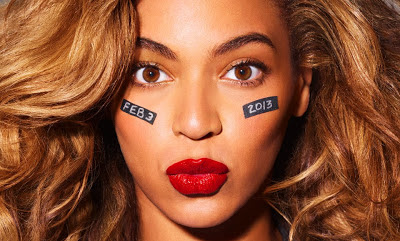 Ahead of the official announcement by the NFL,
Beyonce
has leaked the news that she will perform the halftime show at the 2013 Super Bowl.
On Tuesday, the pop superstar posted a photo of herself with black grease paint under her eyes with the date Feb. 3, 2012 marked in it. The photo was captioned "Countdown To Touchdown."
Last year's event featured
Madonna
and a cast of characters, including
Nicki Minaj, M.I.A., Cee Lo Green
and
LMFAO
.
Super Bowl 47 will be held at the Mercedes-Benz Superdome in New Orleans, Louisiana on February 3, 2013.
An official announcement by the NFL is expected shortly.
See also:
VIDEO: Beyonce sings for World Humanitarian Day
PHOTOS: Beyonce at the United Nations
Beyonce teams with United Nations for World Humanitarian Day
VIDEO: Beyonce praises First Lady in re-election campaign video
Beyonce, Pitbull & Steven Tyler cast in new animated film
Beyonce to perform over Memorial Day weekend
Beyonce to star in film directed by Glee creator
Beyonce working on two albums for 2012
First pictures of Beyonce's baby Blue Ivy surface
Beyonce announces remix contest
Jay Z and Blue Ivy Carter top the popmusiclife Pop 10
Blue Ivy Carter youngest person ever to hit Billboard charts
AUDIO: Jay-Z releases new song featuring Blue Ivy Carter
Beyoncé's baby shares name with event planning company
Beyoncé gives birth to baby girl
Beyonce tops the popmusiclife Pop 10
Tiana-May Carter is rumored name for Beyonce's baby girl
Beyonce shares her Top 10 songs of 2011
VIDEO: Watch Beyonce's tribute to Michael Jackson
VIDEO: Beyonce - I Care