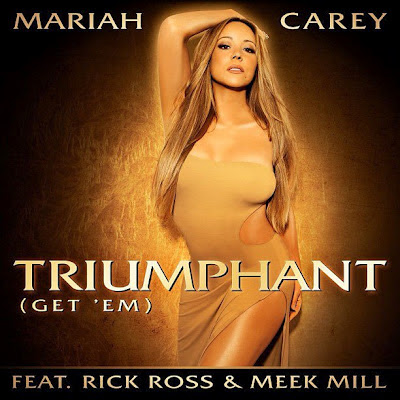 Mariah Carey
has released her new single,
"Triumphant (Get 'Em)" ft. Rick Ross and Meek Mill.
"Meek adds an excitement, a newness to the record that is pretty rare right now,"
Carey said in a conference call with the media just prior to the song's release.
"Working with Ross and Meek on the same record was incredible. Obviously, Ross is a star and everybody loves him. I'm a fan of his music. I really, really wanted to work with him. I love the tone of his voice. I think the contrast of his voice and mine would be something special. I always like to do collaborations that people might think are different."
The new song is the first single from Mariah's upcoming – and still untitled – studio album, her 14th.
"I'm collaborating with a lot of my favorite people but the main thing is [that] I'm not trying to follow any particular trend,"
said the pop superstar.
"I want it to be well received. I want to stay true to myself and the music that I love and make the fans happy."
Mariah was recently named as a new judge on American Idol; she'll be on board when the series returns for a new season in January.
Mariah Carey
See also:
Mariah Carey teases new single
Mariah Carey joins American Idol as new judge
Mariah Carey tops the popmusiclife Pop 10
Mariah Carey shares photos of babies' first Christmas
VIDEO: Justin Bieber & Mariah Carey release Christmas song
Mariah Carey working with Randy Jackson on new album