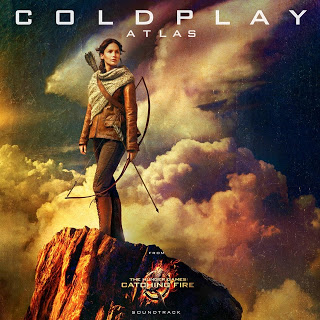 Coldplay
have released a lyric video for their new single,
"Atlas"
, which will be featured on the official soundtrack for the forthcoming film,
"The Hunger Games: Catching Fire."
"Atlas"
is the first new music from Coldplay since the release of their 2011 album,
"Mylo Xyloto."
"I have great respect and admiration for Coldplay, and we are thrilled with how well they have connected to the themes and ideas within the film,"
said Catching Fire director Francis Lawrence.
"Their unwavering passion and excitement for the project elevated the collaboration even further, and we can't wait to share this music with audiences around the world."
In theaters November 22,
"The Hunger Games: Catching Fire"
is the second installment of The Hunger Games trilogy.
Coldplay
See also:
Coldplay tops the popmusiclife Pop 10
Coldplay: New single featured on The Hunger Games: Catching Fire soundtrack
Coldplay tops the popmusiclife Pop 10 for 2nd week
Coldplay tops the popmusiclife Pop 10
Coldplay tops the popmusiclife Pop 10
Coldplay tops the popmusiclife Pop 10 for 2nd week
Coldplay album named favorite by BBC listeners
Coldplay tops the popmusiclife Pop 10
VIDEO: EPIX previews Coldplay Live 2012 concert special
VIDEO: Coldplay preview EPIX concert special
VIDEO: Rihanna, Coldplay and Jay-Z close Paralympics
VIDEO: Rihanna joins Coldplay in Paris
VIDEO: Coldplay rock American Idol
Coldplay to appear on American Idol
VIDEO: Coldplay rock Jimmy Kimmel's post-Oscars show
VIDEO: Coldplay – Charlie Brown
Rihanna to perform with Coldplay at the Grammys
Coldplay to earn $1.5 million for New Year's Eve show
Coldplay singer kicks fan off his property
Coldplay announce 2012 North American tour
VIDEO: Coldplay rock Jimmy Fallon
Spend New Year's Eve with Coldplay on Austin City Limits
Coldplay tops Billboard album chart
Rihanna, Coldplay top iTunes charts
Coldplay sets UK digital sales record
AUDIO: Coldplay cover Rihanna's We Found Love
NOW: Coldplay LIVE in concert
Coldplay and Kelly Clarkson lead today's new releases