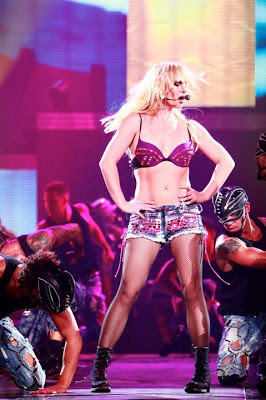 Reports suggest
Britney Spears
has signed a multi-million dollar deal for her first Las Vegas residency.
Gossiping Pens
says that while it's yet to be officially announced by Britney and her team, the pop star has signed a lucrative deal worth well over $100M which would see the singer hold residency at Caesars Palace for 2 years, possibly longer if all goes well.
Most of the details surrounding the deal have not yet been made public, but an official announcement is imminent.
Spears follows in the footsteps of
Celine Dion
and Shania Twain in her new Vegas role.
Britney just announced her departure from The X Factor, and she has also ended her engagement to boyfriend
Jason Trawick
.
Britney Spears
See also:
VIDEO: will.i.am. ft. Britney Spears – Scream & Shout
Britney Spears tops the popmusiclife Pop 10
Britney Spears featured in new X Factor commercial
NEW MUSIC: will.i.am. ft. Britney Spears – Scream & Shout
Britney Spears returning to X Factor for another season
Britney Spears: Fantasy Twist perfume commercial leaks online
Britney Spears promotes X Factor with Ellen appearance
Britney Spears & Christina Aguilera to appear at Madonna's L.A. concert
PHOTO: Britney Spears shows off bikini body
PHOTOS: Britney Spears shoots new perfume ad
PHOTOS: Britney Spears featured in new X Factor photos
Britney Spears would have loved to join American Idol
VIDEO: Britney Spears featured in new X Factor promo
VIDEO: Britney Spears featured in first new X Factor promo
Britney Spears & Demi Lovato confirmed as X Factor judges
Demi Lovato to join Britney Spears as X Factor judge
Britney Spears signs deal to join X Factor
Britney Spears to become X Factor judge
Madonna & Britney Spears flirt on Twitter
VIDEO: Simon Cowell talks Britney Spears on X Factor
Britney Spears nearing deal to become X Factor judge
VIDEO: Madonna calls Britney Spears a 'good kisser'
AUDIO: Britney Spears - 'Look Who's Talking Now' demo leaked
AUDIO: Britney Spears' 'Secret' demo leaked
AUDIO: 2 unreleased Britney Spears songs leaked online