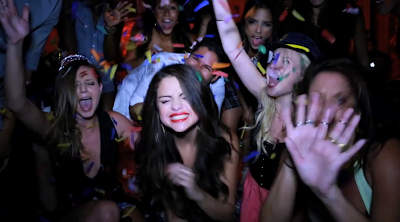 Selena Gomez
turned 21 on Monday and she celebrated by releasing a video for her party track,
"Birthday."
"I wanted to celebrate my 21st Birthday with all of you, so we made this video for us all to celebrate to," she posted. "Thank You for all the love and support you have shown and continue to show me. I love you all so much!!"
The song is from Selena's new album,
"Stars Dance,"
which will be available in North America on Tuesday.
The record marks Selena's solo debut; she had previously released three records with her band Selena Gomez & the Scene, which began a hiatus last year.
Gomez will hit the road for the Stars Dance Tour, which kicks off August 14 in Vancouver, BC.
Selena Gomez & the Scene
See also:
Selena Gomez releases Slow Down video
Selena Gomez tops the popmusiclife Pop 10
VIDEO: Selena Gomez performs at Macy's 4th of July spectacular
Selena Gomez releases Come & Get It remixes
Selena Gomez announces Mom's pregnancy on Mother's Day
Selena Gomez tops the popmusiclife Pop 10
PHOTO: Selena Gomez previews Come & Get It video
VIDEO: Selena Gomez performs Come & Get It on Letterman
VIDEO: Selena Gomez debuts new single on Ryan Seacrest's show
Selena Gomez previews Come & Get It video
Selena Gomez to perform new single at MTV Movie Awards
Selena Gomez & Jimmy Fallon perform Mario Kart Love Song
VIDEO: Selena Gomez laughs about Justin Bieber on Letterman
Selena Gomez streams new song following leak
VIDEO: Selena Gomez – Hit The Lights remix
NEW VIDEO: Selena Gomez – Hit The Lights
VIDEO: Selena Gomez performs at 2011 MTV EMAs
VIDEO: Selena Gomez promotes MTV Europe Music Awards
Justin Bieber joins Selena Gomez in Winnipeg