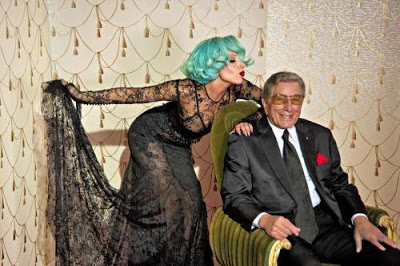 Lady Gaga
may be on the mend from her recent hip surgery, but she's still at work with music projects, including an upcoming jazz album with the legendary
Tony Bennett
.
"We're working on it from now until June, and then we'll record in June. She's phenomenal,"
Bennett told
Rolling Stone
during a dinner at the
Amy Winehouse Gala and Inspiration Awards
, which recognized him with a Lifetime Achievement honor.
"I get along great with her. She's looking forward to it and so am I."
Inspired by their lone collaboration,
"The Lady Is a Tramp"
for Bennett's
"Duets II"
album, the pair plan to expand on their relationship when they enter a studio in Astoria, Queens.
"Once you have an idea, then you go for it,"
Bennett said. While they have not settled on a producer,
Dae Bennett and Phil Ramone
worked on the 2011 song.
Lady Gaga
See also:
Lady Gaga undergoes hip surgery
Lady Gaga cancels tour to have hip surgery
Lady Gaga postpones tour dates due to injury
Justin Bieber passes Lady Gaga as Twitter champ
VIDEO: Lady Gaga rocks with The Rolling Stones
Lady Gaga spends nearly $1 million at Michael Jackson auction
Lady Gaga turned down duet offer from Madonna
Lady Gaga donates $1 million towards Hurricane Sandy relief
Lady Gaga shares No Floods demo as tribute to New York
Lady Gaga: ARTPOP may be released in two volumes
Lady Gaga tops the popmusiclife Pop 10
VIDEO: Lady Gaga vomits onstage in Barcelona
Lady Gaga sets Twitter record with 30 million followers
Lady Gaga raves about new Christina Aguilera single
Lady Gaga: ARTPOP will be a multimedia experience
Lady Gaga announces 2013 North American tour
Lady Gaga shares high school photo of herself
Lady Gaga's Fame is No. 1 fragrance in the U.S.
Lady Gaga tops the popmusiclife Pop 10 for 2nd week
VIDEO: Lady Gaga releases Monstervision No. 6
Lady Gaga tops the popmusiclife Pop 10
VIDEO: Lady Gaga's bodyguards assault fan
VIDEO: Lady Gaga previews Fame fragrance
VIDEO: Lady Gaga's Vogue cover shoot
Lady Gaga: Born This Way Ball headed to Latin America
Lady Gaga confirms new album title
Lady Gaga tops the popmusiclife Pop 10
Cher and Lady Gaga duet due this fall
PHOTO: Lady Gaga reveals new perfume ad
PHOTO: Lady Gaga posts nude picture of herself
Lady Gaga to make acting debut in Machete Kills
Lady Gaga sued by Bratz Doll makers for $10 million
Lady Gaga tops the popmusiclife Pop 10
VIDEO: Lady Gaga shows how her perfume is made
PHOTO: Lady Gaga gets naked in new perfume ad
Lady Gaga can't wait for new No Doubt album
Lady Gaga to offer two versions of Fame perfume
Lady Gaga turned away by Australian club
Lady Gaga tops the popmusiclife Pop 10
VIDEO: Lady Gaga debuts new song in Australia
AUDIO: Rare unreleased Lady Gaga song surfaces online
Lady Gaga concussion update
PHOTOS: Lady Gaga reveals new perfume
PHOTO: Lady Gaga displays black eye after concert concussion
VIDEO: Lady Gaga suffers concussion during New Zealand concert
Lady Gaga cancels Indonesia concert over threats
VIDEO: Lady Gaga sings on The Simpsons