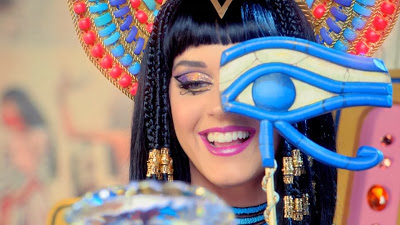 Katy Perry
has announced dates for the Australian leg of her upcoming Prismatic world tour.
The pop superstar will play seven shows down under, starting November 7 in Perth, before hitting Adelaide, Melbourne (2 dates), Sydney (2 dates) and Brisbane.
Tickets go on sale March 11, though customers of the Testra telecoms company have access to a 48-hour pre-sale from March 5 through the tour's partnership with
Telstra Thanks
.
Perry will soon announce dates for shows in New Zealand.
This week, the singer released her new video for
"Dark Horse"
featuring
Juicy J
as the latest single from
"Prism."
Directed by
Matthew Cullen
– who also shot her
"California Gurls"
video – it's the third track issued from Perry's latest, following the lead single,
"Roar"
, and
"Unconditionally."
Perry will launch the Prismatic World Tour in Belfast on May 7, 2014.
Katy Perry
Prismatic World Tour - Australia
Nov 07 – Perth - Perth Arena
Nov 11 – Adelaide - Entertainment Centre
Nov 14 – Melbourne - Rod Laver Arena
Nov 15 – Melbourne - Rod Laver Arena
Nov 21 – Sydney - Allphones Arena
Nov 22 – Sydney - Allphones Arena
Nov 27 – Brisbane - Entertainment Centre
See also:
VIDEO: Miley Cyrus kisses Katy Perry during Los Angeles show
Katy Perry releases Dark Horse video
VIDEO: Katy Perry performs Dark Horse at BRIT Awards
Katy Perry previews Dark Horse video
Katy Perry releases Unconditionally video
VIDEO: Katy Perry performs on Saturday Night Live
Katy Perry releases Roar video
Katy Perry previews Roar video
VIDEO: Katy Perry performs Roar at MTV Video Music Awards
Katy Perry previews two songs from new album, Prism
Katy Perry to perform new single at MTV Video Music Awards
Katy Perry releases new single, Roar
Katy Perry passes Lady Gaga as most-followed woman on Twitter
Katy Perry announces new album, Prism
VIDEO: Katy Perry guests on The Tonight Show with Jay Leno
VIDEO: Katy Perry performs with the Rolling Stones in Las Vegas
Katy Perry is the new face of Popchips
Katy Perry faces indecency charge in India
VIDEO: Katy Perry – Wide Awake
VIDEO: Katy Perry – Wide Awake video preview
VIDEO: Katy Perry debuts new song at Billboard Music Awards
Katy Perry to debut new song at Billboard Music Awards
VIDEO: Katy Perry rocks American Idol
VIDEO: Katy Perry unveils full 3D concert movie trailer
VIDEO: Katy Perry previews 3D concert movie
VIDEO: Katy Perry performs at Kid's Choice Awards
VIDEO: Katy Perry posts Dressin' Up lyric video
VIDEO: Katy Perry – Part Of Me
VIDEO: Katy Perry sings Part of Me on UK television
Katy Perry to perform at Grammys
Katy Perry re-releasing Teenage Dream this spring
Katy Perry to perform at Super Bowl weekend event
Katy Perry wins 5 People's Choice Awards