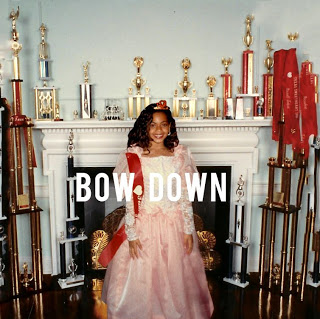 Beyonce
has posted an angry new song online.
"Bow Down/I Been On"
has the pop superstar in an angry mood, defiantly calling out anyone who considers her simply "Mrs. Jay-Z."
"I know when you were little girls / You dreamt of being in my world,"
she sings.
"I took some time to live my life / But don't think I'm just his little wife / Don't get it twisted / Bow down b—-es, this is my s— … I'm so crowned / Bow down, b—-es!"
The track is the first new
Beyonce
tune to surface since the release of her 2011 album,
"Four."
Produced by
Hit Boy
, there's no word on whether the song will be included on
Beyonce
's upcoming fifth solo release.
The pop star is scheduled to kick off "The Mrs. Carter Show" world tour on April 15 in Belgrade, Serbia.
Beyoncé
See also:
Beyonce announces world tour
VIDEO: Beyonce reunites Destiny's Child at Super Bowl
Beyonce proud of lip-sync performance at Inauguration
REPORT: Beyonce lip-synced anthem at Obama Inauguration
Beyonce sings national anthem at Obama Inauguration
Beyonce to perform Super Bowl 47 halftime show
VIDEO: Beyonce sings for World Humanitarian Day
PHOTOS: Beyonce at the United Nations
Beyonce teams with United Nations for World Humanitarian Day
VIDEO: Beyonce praises First Lady in re-election campaign video
Beyonce, Pitbull & Steven Tyler cast in new animated film
Beyonce to perform over Memorial Day weekend
Beyonce to star in film directed by Glee creator
Beyonce working on two albums for 2012
First pictures of Beyonce's baby Blue Ivy surface
Beyonce announces remix contest
Jay Z and Blue Ivy Carter top the popmusiclife Pop 10
Blue Ivy Carter youngest person ever to hit Billboard charts
AUDIO: Jay-Z releases new song featuring Blue Ivy Carter
Beyoncé's baby shares name with event planning company
Beyoncé gives birth to baby girl
Beyonce tops the popmusiclife Pop 10
Tiana-May Carter is rumored name for Beyonce's baby girl
Beyonce shares her Top 10 songs of 2011
VIDEO: Watch Beyonce's tribute to Michael Jackson
VIDEO: Beyonce - I Care