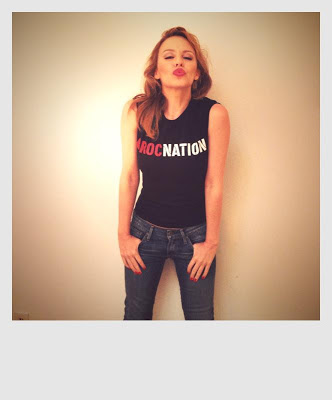 Kylie Minogue
is the latest music star to relocate to
Jay Z's Roc Nation
label.
Minogue broke the news to fans, writing "greetings from my new home rocnation #KM2013ROC."
The Facebook and Twitter posting was accompanied by a photo (above) showing her wearing a Roc Nation t-shirt.
The label also announced the signing on their website saying, "Roc Nation would like to welcome Aussie singer, recording artist, songwriter, actress and designer
Kylie Minogue
to the family.
"In a career now spanning 25 years, Kylie has released 11 studio albums, two live CDs, eight live concert DVDs, a greatest hits double album, and multiple video packages. She has released over 50 hit singles worldwide, including the Grammy-winning Come Into My World, and has sold more than 68 million albums worldwide. Needless to say, we're excited to have Kylie join the Roc fam."
Minogue also announced that she will be performing at the House of Blues in West Hollywood on Sunday with
Timbaland Deadmau5, Demetrius, Nero, Crookers
and
DJ Reflex
.
This news ends speculation that Minogue planned to retire from music after parting ways with long-time manager
Terry Blamey
last month.
Kylie Minogue
See also:
VIDEO: Kylie Monogue performs The Locomotion on The Tonight Show
VIDEO: Kylie Minogue rocks Diamond Jubilee concert
VIDEO: Kylie Minogue – Timebomb
Kylie Minogue to launch Anti-Tour in Australia
Kylie Minogue says new album due next year
Madonna to duet with Kylie Minogue?