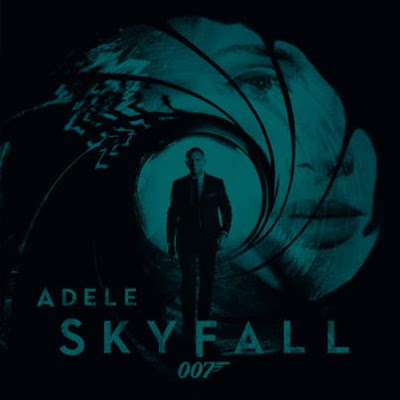 Adele
's
"Skyfall"
picked up a Golden Globe Sunday night for Best Original Song.
The UK singing sensation was on hand to collect the honor at the 70th annual event, beating out tunes by
Taylor Swift, Jon Bon Jovi, Keith Urban
and "Les Misérables" star
Hugh Jackman
.
Adele was seated at a table with
James Bond
star
Daniel Craig
.
"Oh my God, oh my God, oh my God,"
she said when she arrived at the podium.
"Honestly, I've come out for a night out with my friend Nyda. We're new mums; we've literally come for a night out. I was not expecting this, thank you so much!"
"It's very strange to be here, thank you so much for letting me be a part of your world for the night,"
she continued.
"It's amazing, we've been pissing ourselves laughing."
"I'd like to thank the Hollywood Foreign Press. I never thought I'd ever say that,"
she joked to laughter from the audience.
"Sony Pictures, MGM, [director] Sam Mendes, [the song's producer] Paul Epworth who I did the song with, Daniel Craig for being such a wonderful Bond. And this is for my boyfriend Simon, who convinced me to do it, and my lovely son. Thank you so much."
Adele
See also:
Adele has best-selling U.S. album two years in a row
Adele tops Forbes list of brightest music stars under 30
Adele's 21 hits 10 million in US sales
Adele tops the popmusiclife Pop 10
Adele gives birth to baby boy
Adele premieres new James Bond theme song Skyfall
Adele to premiere James Bond theme song Skyfall this week
Adele denies wedding reports
Adele congratulates British rowers on winning Olympic gold
Adele pregnant with first child
Adele song wakes 7-year old girl from coma
Adele will release new music this year
Adele bumped from top spot on US charts
Adele scores week 23 at top of US charts
Adele song sets digital record
Adele scores longest-running US #1 since Purple Rain
Adele tops UK album charts following Brit Awards
Adele sells 730,000 copies last week to stay at US #1
VIDEO: Adele wins big at Brit Awards
Adele tops the popmusiclife Pop 10
Adele still shocked by Grammy wins, headed into the studio
Adele tops US charts for 20th week
VIDEO: Adele sings a capella version of Rolling In The Deep
VIDEO: Adele on 60 Minutes preview
Adele scores 19th week at US #1
Adele holds on to US #1 for 18th week
Adele confirms Grammy performance
Adele: Longest US #1 album streak in almost 20 years
VIRAL VIDEO: The world covers Adele's Rolling In The Deep
Adele's '21' hits 16th week at top of U.S. charts
Adele defends boyfriend
Adele helps Pop albums outsell Rock in the UK