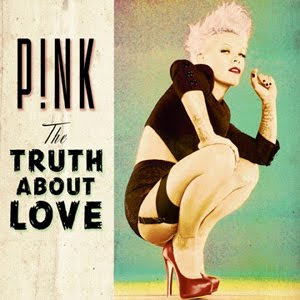 Pink's "The Truth About Love"
becomes her first #1 album.
The singer will debut atop the Billboard 200 album charts when they are issued on Thursday, but
Pink
shared the news with fans via twitter on Tuesday.
"After 13 years and 6 records, I'm beyond floored to have a #1 album in the US. I'm grateful for all the ears and all the hearts. Thank you!!"
The new album is led by the smash single,
"(Blow Me) One Last Kiss."
Pink
recently announced that she will tour North America for the first time in four years; the 6-week arena tour starts February 13, 2013 in Phoenix, Arizona, with dates scheduled to March 28 in Boston.
Tickets go on sale to the public beginning this Saturday, September 29; check your local ticket provider for details about the show in your area.
Pink
See also:
Pink performs with No Doubt at iHeartRadio festival
VIDEO: Pink rocks NBC's Today show
Pink announces North American tour
Pink releases color version of Blow Me (One Last Kiss) video
Pink is the newest face of CoverGirl
VIDEO: Pink - Behind the scenes of her new video
PHOTO: Pink on the set of her new video
VIDEO: Pink – Blow Me (One Last Kiss)
Pink reveals new album cover
AUDIO: Preview new Pink song
Pink tops the popmusiclife Pop 10
VIDEO: Pink – Blow Me (One Last Kiss) lyric video
VIDEO: Pink announces new album
AUDIO: Pink releases new single – Blow Me (One Last Kiss)
Pink: New single due next month